During the school year show times are scheduled with early matinees on Saturday and Sunday afternoons. General hours are 2:00, 5:00 & 8:00 pm. On Mondays through Fridays shows are scheduled two times each day at around 4:30 & 7:00 pm – with the 4:30 shows qualifying as matinees.

During the summer show times are scheduled three times each day – usually around 2:00, 5:00 & 8:00 pm. Consult each feature page for exact show times.
Movies generally change on Fridays except when there is a holiday. Studios often release new features on different days around holidays in order to maximize their sales potential. Again, consult each feature for exact show times.
Gold Hill
More Than Just Movies
Ask us about private showing options, corporate &amp group viewing, theatre rental, and more.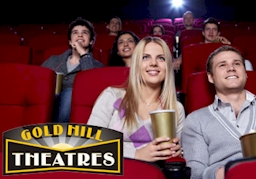 Gold Hill Theatres has recently invested in multiple technology and viewing comfort upgrades to bring the very best in digital cinema entertainment to our community
We're always interested in working closely with groups and organizations who desire the opportunity to experience a new setting for private movie viewing or perhaps a screening of work produced by local professionals. Just a few examples of how Gold Hill Theatres may serve your viewing needs:
Have an idea for a fun activity or fundraising event? Let us know how we may be able to work together. Gold Hill Theatres supports our local community in many ways. Please remember that direct cash donations to our over 30 local nonprofits, schools, and charities is not possible
About Us
ABOUT GOLD HILL THEATRES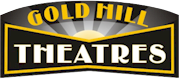 Welcome to Gold Hill Theatres in beautiful Woodland Park, Colorado. Gold Hill Theatres, built in 1975, offers you a truly family style movie theatre with state-of-the-art  digital projection and sound equipment.
Gold Hill Theatres offers you the newest movies and friendly, personal service. Nothing beats the taste of freshly made popcorn, your favorite iced cold drink, and the fun of "going to the movies." Come see a movie today and bring everyone with you!
JOIN US ON FACEBOOK


Please check out our FACEBOOK and INSTAGRAM pages. If you follow us on Facebook you'll get up-to-date announcements about what is coming, and notifications when we are discussing different aspects of the theater, such as show times or special events. It's your chance to make YOUR theater better. Our Instagram is a little more personal and contains photos of events, costumes, and other theater/movie-related interests.
FRESH POPCORN, CANDY & DRINKS
People constantly rave about our popcorn. It is gluten-free and always fresh (not bagged and reheated) and we use the best ingredients for popping. The soda fountain is the type that gives the best tasting soft drinks with just the right fizz and our candy selection includes all your movie going favorites.
Online Ticket Purchases Now Available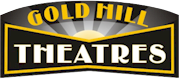 Always A Good Time!

Family Friendly Ticket Pricing
Adults - $8.25
Student/Military w/ID - $7.75
Ages 2-11 & Matinee (before 4:30 pm) - $7.00
Senior (60+) - $7.25