Showtimes
Please Check Dates
| | | |
| --- | --- | --- |
|   | Date | Show Times |
| Friday |  14 | 2:15, 4:30, 7:00pm |
| Saturday |  15 | 2:15, 4:30, 7:00pm |
| Sunday |  16 | 2:15, 4:30, 7:00pm |
| Monday |  17 | 2:15, 4:30, 7:00pm |
| Tuesday |  18 | 2:15, 4:30, 7:00pm |
| Wednesday  |  19 | 2:15, 4:30, 7:00pm |
| Thursday |  20 | 10:15, 2:15, 4:30, 7:00pm |
Gold Hill
More Than Just Movies
Ask us about private showing options, corporate &amp group viewing, theatre rental, and more.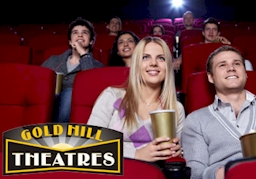 Gold Hill Theatres has recently invested in multiple technology and viewing comfort upgrades to bring the very best in digital cinema entertainment to our community
We're always interested in working closely with groups and organizations who desire the opportunity to experience a new setting for private movie viewing or perhaps a screening of work produced by local professionals. Just a few examples of how Gold Hill Theatres may serve your viewing needs:
Have an idea for a fun activity or fundraising event? Let us know how we may be able to work together. Gold Hill Theatres supports our local community in many ways. Please remember that direct cash donations to our over 30 local nonprofits, schools, and charities is not possible
Despicable Me 3
Runtime: 1 Hour 36 Minutes
PG
The mischievous Minions hope that Gru will return to a life of crime after the new boss of the Anti-Villain League fires him. Instead, Gru decides to remain retired and travel to Freedonia to meet his long-lost twin brother for the first time. The reunited siblings soon find themselves in an uneasy alliance to take down the elusive Balthazar Bratt, a former 1980s child star who seeks revenge against the world.
Online Ticket Purchases Now Available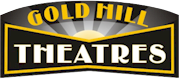 Always A Good Time!

Family Friendly Ticket Pricing
Adults - $8.25
Student/Military w/ID - $7.75
Ages 2-11 & Matinee (before 4:30 pm) - $7.00
Senior (60+) - $7.25